Venue
University of Michigan – Flint
Riverfront Banquet Center
1 Riverfront Plaza
Flint, MI 48502
Parking
FREE parking will be available for conference attendees and guests at the Riverfront Banquet Center parking ramp for the duration of the conference. Click here for more specific directions. 
Carpooling/Ride Sharing
Whether you're in Michigan or flying in from out of state, our carpool site will help connect folks who have wheels with those who do not!
GIVE A RIDE. If you have space in your vehicle, please add your car here. This may be especially important for folks arriving at the Flint airport.
NEED A RIDE? Join a carpool here.
We're all about reducing the overall conference carbon footprint!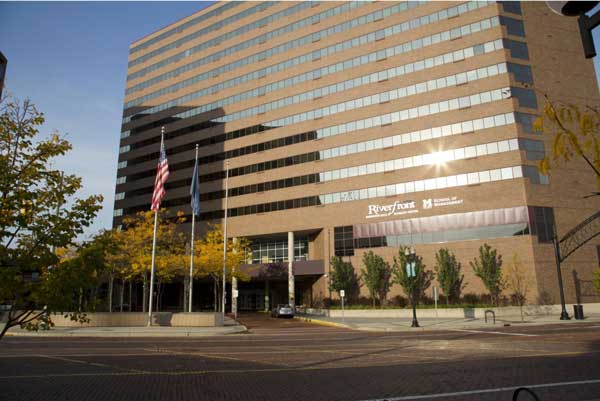 Air Travel
Detroit Metropolitan Airport (DTW)
Bishop International Airport (FNT)
Bishop International Airport is located in Flint.
Complimentary shuttle to
– Holiday Inn Express Flint. Shuttle must be scheduled at least one day in advance by calling 1-810-238-7744. Shuttle hours of operation: 6:00 AM to 10:45 PM
– Holiday Inn Flint Gateway Center
Car rentals are available from a number of agencies.
Consider signing up for the conference carpool to or from an airport. If you have questions, contact Jan at conference@greatlakesstewardship.org.
Hotels
There are a variety of options for conference lodging this year!
UM – Flint Riverfront Residence Hall
1 Riverfront Plaza, Flint, MI 48502
On-site lodging is available at the UM – Flint Riverfront Residence Hall for $30-$45/per person per night!
Riverfront rooms are configured "suite-style" in 3, 4, and 5 person configurations. Each suite offers guests a private lockable bedroom, full kitchen, shared living space, and cable/internet service. A typical bedroom comes with an extra-long twin bed, desk, chair, wardrobe, and a chest of drawers with desktop organizer. Bathrooms are shared (1.5 baths in 3 person suites, 2 bathrooms in 4+ person suites). 
Hall amenities include:
24-hour front desk with building staff dedicated to helping guests
Secure buildings with keycard access. Each conference participant lodging at the Residence Hall will receive a key card unique to their room within the suite.
Air conditioning
FREE Parking
Laundry facilities
Vending machines
Community gathering area
Linen service – First set of linen is free. Linen includes extra-long twin fitted sheet, extra-long twin flat sheet, extra-long twin blanket, pillow with case, towel, and washcloth. There is a fee for additional linen.
Wi-Fi (except on floors 10 and 11)
Coffee/tea. Travel mugs provided. (except on floors 10 and 11)
TV with Comcast cable service (except on floors 10 and 11)
University Rec Center Access for $2/day. Residents would have access to both the Rec Center in the Residence Hall and the Main Rec Center, which has a pool!
Kitchen kits available for $10/night. Limited availability.
ADDITIONAL COSTS: Housekeeping Service
Note: Submitting this request form is not a guarantee of a room. Watch for a follow-up email from the UM-Flint housing office confirming your room.
Courtyard by Marriott Flint
Location: Near Bishop International Airport 
Airport shuttle: Not available
Parking: Free for conference attendees
WiFi: complimentary basic WiFi. $4.95/day for upgraded WiFi
Breakfast: Not included in room rate, but there is a Starbucks Bistro on site
Fitness center and indoor pool
Conference rate (Good until October 24, 2019):
$104/night, 2 queen beds
$104/night, 1 king bed
Holiday Inn Express Flint
Location: Near campus, within walking distance to the Riverfront Banquet Center
Airport Shuttle: Complimentary. Shuttle must be scheduled in advance by calling 1-810-238-7744. Shuttle hours of operation: 6:00 AM to 10:45 PM
Parking: Complimentary
WiFi and complimentary breakfast buffet
Fitness center
Conference rate (as long as rooms are available):
$89/night, 2 queen beds
$89/night, 1 king bed
Holiday Inn Flint Gateway Center
Location: Near Bishop International Airport 
Airport shuttle: Complimentary
Parking: Free for conference attendees
WiFi: complimentary
Breakfast: Not included in room rate, but there is a restaurant on site
Fitness center and indoor pool
Conference rate (Good until October 23, 2019):
$119/night, 2 queen beds
$119/night, 1 king bed